Take Part -Virtual Autoimmune Walk 2017!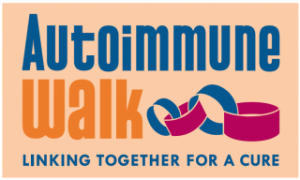 According to AARDA – the American Autoimmune Related Diseases Association, there are more than one hundred known autoimmune diseases in the United States and collectively they amount to the most prevalent of diseases in the U.S., with as many as 50 million affected nationwide.
The National Institute of Environmental Health Sciences (NIEHS) reports that these diseases are more common among women and are becoming more prevalent for reasons unknown.   While some autoimmune diseases are rare and difficult to diagnose, others are commonly known, e.g., type 1 diabetes, systemic lupus, multiplesclerosis, rheumatoidarthritis, celiacdisease, psoriasis/psoriatic arthritis, inflammatory bowel disease (IBD), Addison's disease, Graves' disease, Hashimoto's thyrodiitis to name a few.
The NIEHS reports that, "The immune system protects you from disease and infection. Sometimes, though, the immune system can produce auto-antibodies that attack healthy cells, tissues, and organs.  This can lead to autoimmune disease."  Because of this, some autoimmune diseases are considered life-threatening.  Sufferers often spend years attempting to get the correct diagnosis for their symptoms.  If a proper diagnosis can be achieved, there are treatments to reduce effects, however this is certainly not a cure.  Without a cure debilitated patients are subjected to a lifetime of treatments.  For more information about autoimmune disease please visit AARDA.
Another valuable source of information regarding autoimmune disease-
Whether you live in Southern California or not, please join us November 11th for Autoimmune Walk 2017 at Culver City Park,  OR  participate in a "virtual walk" anywhere, anytime!
One of the rarest forms of autoimmune disease is known as  "RP" – relapsing polychondritis.  Please consider joining the team or making a donation towards a cure "For RP"-  sign up/donate here. 
WATCH a short documentary about "RP" – relapsing polychondritis – "RP The Ride of My Life".
The Women Bicycling Logo is a Registered Trademark