Always Ride With Traffic – Except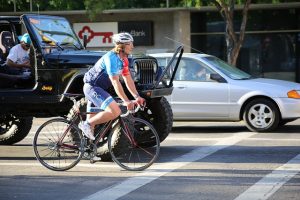 Always ride with traffic – except when… Bicyclists must travel on the right side of the roadway in the direction of traffic, except when passing, making a legal left turn, riding on a one-way street, riding on a road that is too narrow, or when the right side of the road is closed due to road construction. CVC 21650.
Remember when cycling you must be predictable by obeying the Rules of the Road in your community, state or country. Anything less simply stated makes you a nuisance and frankly a danger to everyone around you.  Refer to the Rules of the Road in your state or country and know the law.
Click HERE to view bicycle safety laws by state.
Women Bicycling is a Registered Trademark