Pic of the Day – I Love Lucy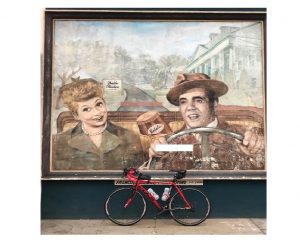 If you enjoy cycling and viewing public art,  you will enjoy cycling around Culver City, California, also known as "The Heart of Screenland."  If you didn't already know it, Culver City is where Hollywood movies are really made.
Mural location: Southeast corner of Culver Boulevard and Irving Place.  Artist, Francious Bardol commissioned to paint this 10′ x 12′ mural in oil paint.
The "I Love Lucy",  show starring Lucille Ball ("Lucy"), Desi Arnaz ("Ricky"), Vivian Vance ("Ethel") and William Frawley ("Fred") was made famous in the 1950's by the pioneering Desilu Production Company, co-owned by Desi Arnaz and Lucille Ball.  I Love Lucy was so popular that more than sixty (60) years later it is viewed by some 40 million people and regarded as one of the greatest most influential sitcoms in history, syndicated in dozens of languages world wide."
The Women Bicycling Logo is a Registered Trademark