Empowering Little Bellas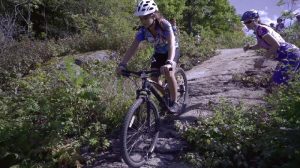 Sisters Sabra and Lea Davison grew up in the small town of Jericho, Vermont, each having a passion for the great outdoors, skiing, running, biking and loving competition.  They began to compete in mountain bike racing events at the Junior level, including the National Off-Road Bicycle Association (NOBA) series, to the UCI Junior World Championships competing in numerous world cup events.  While young men's confidence and self-esteem flourished in this male dominated sport of mountain biking, young women's confidence and self esteem waned leading to a lack of female competitors.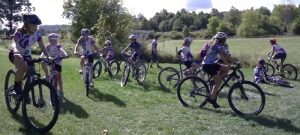 Sabra and Lea met Angela Irvine on the starting line of the Eastern Cup races and again at collegiate races.  Angela was advisor to the Saint Michael's College cycling and mountain biking club at the time.  They each shared their belief that,  "the sport of cycling lacked a new female generation, and women lacked the confidence to compete and race mountain bikes."   In 2007 they joined forces in Vermont to co-found "Little Bellas," a non-competitive mountain biking program for girls ages 7 to 16.

The plan – to bring a community of women together to mentor girls rather than coach them, where support and respect are key values, where encouraging young girls participation in the sport would build their confidence, empowering them while promoting healthy lifestyles and good nutrition.  Little Bellas would be a fun filled program, encouraging skills on and off the bike.  Over the last ten years 2800 girls have participated in the Little Bellas program in fifteen states from California to Vermont, offering week-long half and full day camps, weekly program sessions, and event camps for girls ages 7 to 18.
Lea Davison is currently a nine time national champion and 2012 Olympian, who races for the Specialized Factory team, a long time corporate sponsor of the Little Bellas program.   As the Executive Director of Little Bellas, Sabra spends her summers facilitating all national programs, still finding time to compete at the professional level in Cross Country Skiing, while they each continue to encourage and empower the next generation of female cyclists – Little Bellas.
Click to watch a brief video – What Little Bellas Are About
Women Bicycling Logo is a Registered Trademark