My Search for a Women's Cycling Group
I began riding a road bike for exercise in 2013 when a shoulder injury prevented me from playing tennis. We lived in a northeast suburb of Houston Texas at the time, and my rides were done solo along the nearby country roads. While I loved the freedom and challenge of cycling, I missed the social interaction of my years of playing team tennis. I had plenty of time, plenty of miles, on those solo rides to imagine how fun it would be to find a woman's cycling group to join. Unfortunately, no amount of searching had turned up such a group in that part of Texas.
Since my husband and I split our time between our Texas home and one in the South Bay (Southern California), I shifted gears in the spring of 2014 and started looking for a woman's cycling group in the LA area. Lucky for me, that search turned up the PV Bike Chicks. I quickly joined the group and thoroughly enjoyed the trice weekly rides and social interaction the group brought to my life. I also loved the feeling of empowerment the group offered. No problem was too big for the chicks, they could handle anything. As the summer came to a close I found myself really sad to be leaving such a fun group and decided then, upon returning home, I would just create my own Texas Chicks.
In the fall of 2014 I walked into our local bike shop, the Bike Barn in Atoscocita, and pitched my idea for a woman's cycling group. The assistant manager, Gabe, listened and made a deal with me. He said if I would promise to show up every Tuesday in their parking lot at 9am, and not flake, he would set up a Google group for me and recruit every woman who walked into the store. We each kept our end of the deal. He signed up every woman he could, and I showed up, sometimes in 32 degree weather, sometimes in 100 degree weather. My first ride I had one other rider show up.  Lucky for me she knew the 38 mile route because I didn't!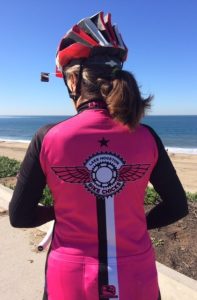 The first year of the LH Bike Chicks was rocky.  The group grew much slower than I anticipated, and then riders fell off dramatically when I was gone for the summer. There were days I questioned my sanity for standing in the freezing cold waiting for riders, any riders, to show up. The frustrating thing was that I knew if enough riders would just consistently show up, take ownership in the group, and start sharing their lives with one another, it would be awesome. And that is exactly what happened. The LHBC is a strong group today as it closes in on 300 members on FB. Both Tri and mountain bike groups have formed from LHBC members. Many chick husbands and significant others ride with the group. Organized rides draw large numbers of LHBC members decked out in their newly designed kits. While all rides are not "no drop" there are enough opportunities for any woman to join, and improve as a rider. It is a very welcoming, and yes, empowering, group.
Before I left Houston last spring, I asked Gabe who has since moved on to manage another Bike Barn, what made him believe in me, a 61 year old woman in average shape, with an inexpensive road bike and an idea to start a new woman's cycling group. He said it was the passion I showed, and the fact that I believed failure was not an option.  I have started other groups in my life, but this one, I am most proud of.
You can visit the Lake Houston Bike Chicks on FaceBook – private group page: https://www.facebook.com/groups/850761748312457/
Women Bicycling Logo is a Registered Trademark