Week 5, Meredith's Cycling Adventure
Meredith Fitzpatrick's Cycling Adventure – Week 5.  Santa Fe, New Mexico to Lawton, Oklahoma.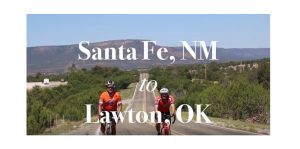 Santa Fe, Las Vegas, Tucumcari, New Mexico to Vega, Clarendon and Hollis, TX then on to Lawton, OK.
The Fuller Center for Housing based in Americus, Georgia offers a series of fundraising bike rides.  The goal is to provide decent, affordable housing for people worldwide who would otherwise never have the opportunity to be homeowners. The need is great.   Recipients are not just handed the keys to their new home but must take an active role from the start.   Founders of The Fuller Center created the means for these recipients to experience the everlasting gift of dignity, brotherly love and the joy one feels in helping not just themselves but others also in need. The Fuller Center was founded by Millard and Linda Fuller who had previously founded Habitat for Humanity in 1976.
Millard Fuller (b.1935-d. 2009) is remembered as a missionary, humanitarian, successful lawyer and businessman as well as the former president and co-founder of Habitat for Humanity International (est. 1976) and The Fuller Center for Housing (est. 2005) along with his wife Linda Caldwell Fuller.
Millard was known as a driven man full of ambition.  He majored in economics at Auburn U. (1957) graduating with a JD from the U. of Alabama in 1960, marrying his wife Linda in 1959.  By age 29 he was a self-made-millionaire.  While it sounds like having millions made life carefree this was not the case, for in 1965 Linda told Millard she was leaving him.  The couple saved their marriage by dedicating themselves to their Christian faith taking up the Great Commission by giving their wealth to the poor and becoming missionaries.  They moved their family to an  interracial farming community in Georgia, then in 1973 the Fullers moved to Zaire (Democratic Republic of the Congo) where the idea for a housing ministry was born in an extreme poverty stricken area.   The Fund for Humanity funded a 100-house building project which was completed before the Fullers returned to the U.S. in 1976.
The Fullers were able to continue to use the Fund for Humanity and utilize local volunteer labor to construct affordable housing for those most in need in the slums of San Antonio, Texas and in Appalachia.  The Fullers then founded Habitat for Humanity in Americus, Georgia which is only about 10 miles or so from Plains, Georgia home to former President Jimmy Carter.  In 1984 Jimmy and Rosalynn Carter became Habitat for Humanity's most famous volunteers and financial contributors helping to propel the non-profit's visibility and mission to build decent affordable homes for those most in need.  By 2003 Habitat and it's affiliates had built more than 150,000 homes in 92 countries.  The Fullers eventually left Habitat not agreeing with the board's direction in commercializing the non-profit.
In 1996 Millard Fuller was awarded the Presidential Medal of Freedom, (highest civilian honor bestowed for meritorious contributions to security, national interest of the U.S., to world peace, cultural or significant public or private endeavors) by then President Clinton.
In April of 2005 the Fullers continued on with their Christian mission by founding The Fuller Center for Housing continuing their work to eradicate poverty housing worldwide while helping those most in need regardless of race, creed, color or national origin. The homeowner actually helps in the process of building or rehabilitating their home and are provided a no interest loan at terms they can afford which provides them a much needed hand up rather than a hand out.  The money the homeowner pays helps to invest in another property for someone else in great need, leaving them to feel a sense of goodwill and brotherly love for their ability to help others -a win win situation.  Millard Fuller continued to speak internationally until his passing creating "collaborative and innovative partnerships" with organization partners and affiliates, enlisting volunteers to help with building projects while raising funds and awareness for those for this very worth cause.  Click here to visit The Fuller Center for Housing.
Visit Meredith Fitzpatrick's donor page click here.
The Women Bicycling Logo is a Registered Trademark