Thinking About Buying an E-bike?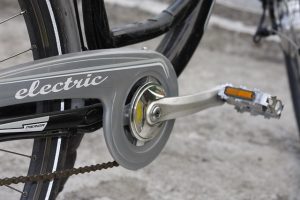 Electric bikes or "E-bikes" are basically a bicycle with a motor and are becoming more and more the rage.  Global E-bike sales are expected to grow from over $15.7 billion in revenue in 2016 to $24.4 billion by 2025 according to Navigant Research – (https://www.navigantresearch.com/research/electric-bicycles). Marketing analysts with eCycleElectric – (http://www.ecycleelectric.com/) report that electric bike sales are up by "at least 50%"in the U.S. while Christopher Cherry an engineering professor and leading scholar on E-bikes with the University of Tennessee said that over the last ten years China has sold more than 100 million e-bikes accounting for, "the single largest adoption of alternative fuel vehicles in history.
Electric bikes are touted as an alternative mode of transportation to combat rising fuel costs and increasing density of urban environments, even automakers are getting on board with Ford's e-bike model – MoDe.
With demand for E-bikes, manufacturers are lining up from China, Taiwan and Korea to Italy, Germany, Switzerland the Netherlands and the US to name a few each offering consumers the latest innovations including; bikes that fold, have their own app to lock and unlock your bike, anti-theft protection, USB ports, solar technology to charge the battery while riding, an alert to potholes by vibrating the riders Apple watch, and more.
It's easy to get caught up with all the options making it difficult to decide which E-bike may be right for you.  Take a look at this Buyers Guide offered by U.S. manufacturer Evelo (http://evelo.com) who breaks down the basics for you.   Your decision on manufacturer make and model will ultimately depend on your budget as prices widely vary.  Keep in mind ongoing service and support as well.
The Complete Electric Bike Buyers Guide: http://www.evelo.com/complete-buyers-guide.pdf
The Women Bicycling Logo is a Registered Trademark of Women Bicycling