Meredith Cycles the Natchez Trace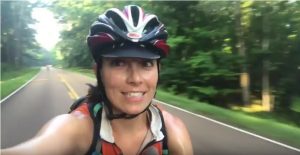 Meredith Fitzpatrick cycled the Natchez Trace Parkway this summer with the Fuller Center for Housing raising funds for decent affordable housing for those in need.  Click on Meredith's picture  to watch her brief video as she cycles along the historic Natchez Trace Parkway, part of Americas history creating memories of her own to last a lifetime.  Imagine cycling this historic road today with the light filtering through those majestic centuries old trees.  If these trees could talk, oh what a story they could tell!  For more information about the Fuller Center for Housing bicycle adventure.
What and where is the Natchez Trace Parkway?
The Natchez Trace is an historic forest trail roughly 444 miles (710 km) from Natchez, Mississippi to Nashville, Tennessee.   According to a sign posted there by the National Park Service,  "Old Trace is a wilderness road that originated from a series of trails used by the southeastern Indian tribes.""Old Trace is a wilderness road that originated from a series of trails used by the southeastern Indian tribes. The Natchez Trace was politically, economically, socially and militarily important for the United States in it's early development.  Among those that traveled this road were American Indians, traders, soldiers, "Kaintucks", postriders, settlers, slaves, circuit-riding preachers,  outlaws and adventurers.  The Old Natchez Trace serves as a reminder of those who contributed to events that shaped the broad patterns of our common history. "
"Kaintucks" were men who would steer flat-bottom boats in the warm summer months in the nearby river when water levels were unseasonably low.  These flat-bottom boats contained enormous loads of cattle, timber, coal and other goods. The trip was arduous to say the least.  In 1810 alone more than 10,000 Kaintucks traveled the river along the Natchez Trail.  Unable to return in these powerless boats, the Kaintucks would sell them for scrap lumber then forced to walk home more than 440 miles.  A nearby section of this original trail survives today,  known today as "The Sunken Trace", still marred by wagon wheels, horses hooves and people who walked this trail more than two hundred years ago. Imagine how tough it would have been to travel without modern conveniences, fighting the heat and mosquito's, lack of food, suffering disease while traversing swamps along their journey.  
At the end of Meredith's cross country adventure she will return home having many fond memories of kind and generous people along the way, scenic sights and sounds, having enjoyed the experience of a lifetime while making a positive impact on affordable housing.
Good for you Meredith!
The Women Bicycling Logo is a Registered Trademark