Can An Adult Learn To Ride a Bike?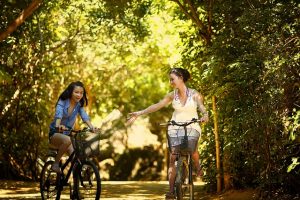 Have you
never
learned to ride a bike as a child and think it's too late now?  Au contraire!  If you consider yourself a neophyte when it comes to riding a bike, you'll first want to visit your local bike shop for assistance in selecting the bike and helmet that is right for you.   The most important thing about getting the right bike and helmet is that these items fit you properly.   It's also important that you feel comfortable with the person helping you.   If you don't feel comfortable move on to the next shop until you find someone you feel comfortable with.
Note, that if your bike "gear" doesn't fit you properly the result can be injury to your neck, back, wrists, knees, etc.   The correct fit however, can provide you years of fun and fitness.
If you don't know how to ride a bike don't be afraid to ask the sales person for assistance.   Ask if they will teach you to ride?  If they don't offer training they can usually refer you to people who will.   If you would prefer to learn on your own, locate an empty parking lot or local park to practice the "balance method."  Your local bike shop wants your return business so don't be afraid of asking for assistance.  Learn how to ride a bike – your body, mind and spirit will thank you!
The Women Bicycling Logo is a Registered Trademark of WomenBicycling.com