Tech Gadget to Have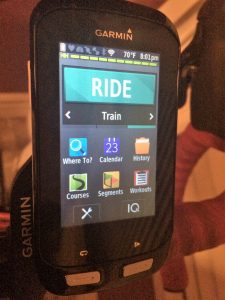 The more you ride your bike the more you wonder, how many miles have I ridden, how fast am I riding, and how high was that hill I just rode up?  This is great information to have and easily collected with a bike computer.  While the Garmin brand is high in popularity with cyclists it is equally high in price.  For example the Garmin Edge 1000 Bundle has so many bells and whistles, the average cyclist will find it is more bike computer than they will ever use.  The Edge1000 Bundle offers a large (3.0″) color display of pre-loaded maps. screen adjusts automatically for low-light environments like shady streets and tunnels, you can even turn every ride into a race by competing on "Garmin Connect Segments" with real time results and receive text, email and call notifications.  If you get in a rut riding the same roads and don't know where to go, you can use a route planner, select mileage between 5 and 200 miles and the Garmin Edge 1000 will select three routes for you to choose from!  No, it doesn't make a good latte – yet.  A cadence sensor and premium heart rate monitor goes without saying on this top of the line model which runs about $600.  Too rich for your blood?
Keep in mind there are many other bike computers on the market very capable of keeping a basic accurate accounting of your adventures while allowing you to keep more cash in your pocket.  Lesser investment equals less information, however, basics include a speedometer with current/average/maximum speed and total distance traveled and for a or a few more dollars, you add a 2nd trip distance, total distance, elapsed time and a clock.  Of course you can have illuminated display, and some screens are slightly larger than others.  Don't expect any maps or color on basic bike computers.
While the Garmin 500 Premium has many features and the Garmin 1000 even more, you should also check out other brands.  CatEye Velo 7 CC-VL520 Wired, the CatEye Strada Wireless CC-RD300W and the Sigma Sport BC5.12 Wired Bicycle Computer to name three for much less investment.
Once you have all that handy information on your computer, there are numerous websites both free and subscription to help you monitor and organize all that information gathered.  It's fun to view your progress over the months and years and realize that riding your bike on a regular basis can add up to hundreds if not thousands of miles ridden and a great boon to your health and fitness level.  You can easily keep track of your progress and receive kudos from fellow cyclists along the way.  Check with your friends to see what types of bike computers they have had and what they liked and disliked about them.  Enjoy your ride!
Women Bicycling Logo is a Registered Trademark