Swim, Bike, Run Repeat!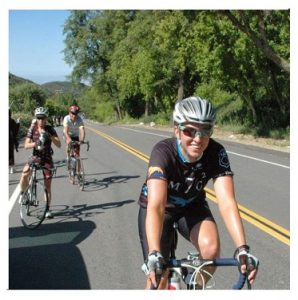 Sara Keller recalls a fond memory at age 4 or 5 when she received the gift of her first bicycle, a little red Schwinn.  She remembers believing the letter "S" on the seat stood for "Sara."   An athlete all her life her dad enrolled Sara, her older brother and younger sister in soccer and swim classes.  Growing up her parents were not athletic but very supportive and encouraging.  Sara's dad acted as soccer coach never pushing any of his kid's to compete.  He would always ask, "Did you finish," "Did you have fun" and, "Well that's all that matters".  Sara was the most competitive of the three kid's with her dad always cheering her on from afar.
Sara attended Indiana University where she rode a mountain bike around town as well as to and from her classes.  Her favorite memory has always been of being part of a team in a competitive environment but that would have to wait for now.   After graduating she worked out here and there but continued to miss competitive athletics.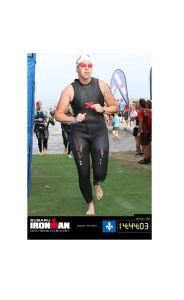 Sara married her husband Jason and had two beautiful children.  While living in Kansas City she heard an advertisement on t.v. inviting people to come join the biggest Olympic event in the country – a triathlon in Iowa.  She thought this would be her way of getting back into competitive sports.  Not owning a road bike she went to to her local bike shop in 2011 to purchase one.   From there she discovered a very welcoming community among triathletes when her first contact taught her how to ride her new road bike.   Sara has been hooked on triathlons ever since.
Many competitors don't particularly care for the swimming segment of tri-competition yet swimming is Sara's favorite event.  She admits that while she ran in the New York city marathon two years ago and counts it as "an amazing event," she dislikes running finding it somewhat painful and she wouldn't run again if it weren't part of the triathlon competition she has become so fond of.
Receiving a great deal of support and encouragement from the tri-community she met a coach along the way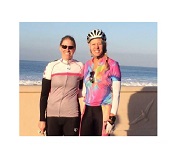 she acknowledges she owes a debt of gratitude to,  "..who has been there every step of the way through my 3 Ironman journeys acting as [my} coach, mentor and sounding board.  Her confidence and belief in me never wavered.  When I missed just about every workout she never questioned, but always kept looking forward.  She is one of the most inspiring people I have ever met and I am so lucky to call her my friend.  Barb Brown Frank, there are no other words than THANK YOU!"
Sara recounted her first Ironman in Mont-Tremblant, Quebec, Canada in 2015.  To participate seemed unfathomable because, "Sara Keller does not run,"  she couldn't imagine running 26.2 miles.  In shock after finishing her first Ironman she thought, "I'm one and done that's it!"
Her second Ironman in Cambridge, Maryland October 2016 Sara entered on a whim because a friend had entered and asked her to join him. The event was cancelled then rescheduled the year before due to a hurricane.  This her second triathlon the day of the event her friend was not able to attend and so she would go it alone.  The swim segment was cancelled due to unsafe conditions.   Athletes decked out in wet suits could see the Choptank River experiencing  very choppy waters due to high winds.  The race began with the bike ride while persistent rain and high tides caused the run course to be flooded so competitors ran in water up to their knees, a bit more like a "swim run".  While Sara thought she wouldn't participate in another Ironman she felt she must because she didn't get the opportunity to enjoy her favorite segment, the swim.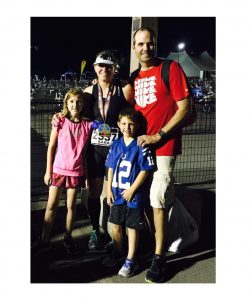 Then came Madison, Wisconsin Ironman 2017.  Sara decided to make this event a tribute honoring her late fathers memory, he had passed suddenly.   The University of Wisconsin – Madison was her dad's Alma mater and has always been one of his most favorite places in the world.   Sara recounted how life can throw a curve ball every once in awhile.  Her husband who works for Toyota was transferred one month after she had committed to participate in her tribute triathlon so she recalled wondering,  "How will I get this done?  There were times I thought about backing out because how could I do one of the hardest bikes in the circuit only riding once a week? I knew the day was going to be hard they all are, but knew I had to get to the start line.  I am not sure if I was prepared with how hard the day would be, but as I came up to the finish the capital all  lit up I looked to the sky and knew my dad was right there. Cannot thank my husband and kids enough for their support, without them nothing would be possible." 
Acknowledging her last Ironman event was the toughest day of her life Sara explained that her goal now is to focus on being supportive of her family and her children's athletic events.  While she never missed a golf tournament or a track event for her kid's while she was training she vows that now they come first.  It's now time for them to make their childhood memories as wonderful as her own were.

The Women Bicycling logo is a Registered Trademark